Tips for parents to promote veggies
Healthy eating means enjoying a wide variety of nutritious foods every day from each of the five food groups. Many parents will agree it can be difficult to get our kids to enjoy their vegetables. A recent national health survey found 81.7% of 2–3 years olds and 95.9% of 4–8 years olds did not eat the recommended daily vegetable intake.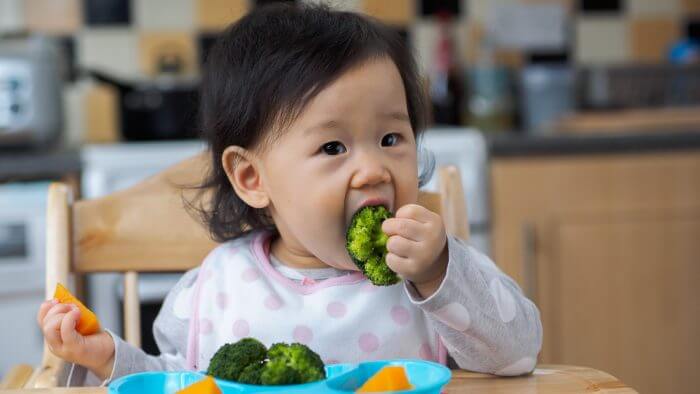 What if my child is a fussy eater?
Parents are often frustrated when their children won't eat veggies, and label them as fussy or picky. However, this behaviour is considered a normal part of children's development.
Vegetables, legumes and beans are power houses of nutrition and are packed with fibre, vitamins and minerals which are essential for our children's growth and development.
But how do parents encourage kids to eat more vegetables?
Establishing good eating habits early for children is crucial for their growth, development and long-term health. Providing a wide range of foods at each meal ensure children will get all the nutrients they need to reach their full potential.
"My kids hate veggies!"
Parents tell us they are often frustrated at the dinner table because their children won't even try their vegetables. Does this sound like something you'd hear in your house, "I don't want to eat vegetables" or "I hate veggies"? Are you always asking yourself how you can make your child like vegetables?
Getting your kids to eat more veggies often takes time but we have a few tips and tricks to make it easier.
Tips to encourage kids to eat more veggies
Role Model – Parents are the most influential role models for their children. Parents need to eat veggies if they want their kids to eat them too
Keep Offering – Continue to offer new veggies to increase variety and keep offering the veggies kids say they don't like – it may take 15+ times for kids to accept new foods
No Pressure – Encourage children to try new foods without pressure and take uneaten food away without a fuss.
Family Foods – Children need to learn to eat family foods, so avoid preparing special meals and snacks that differ from what the rest of the family are eating
Encourage autonomy – Allow children to serve and feed themselves
Get cooking – Involving children in the cooking process e.g. allowing them to peel veggies, or select a veggie to cook, can help the child become more accepting of the food.
Avoid food bribes – Avoid using food as bribes or to force a child to eat. Instead use positive, calm language and try cooking or presenting veggies in different forms (e.g. raw vs roasted vs mashed vs diced)
Quality vs Quantity – Focus on the quality of the food, rather than on the quantity your child eats. The amount they eat will be different every day so look at the bigger picture over the week rather than each individual meal.
Try dipping – Homemade dips with raw veggie sticks are a great way to pack in more veggies. Add some variety and colour with some snow peas, capsicum, cherry tomatoes or raw broccoli.
How to include more veggies in meals
It might sound challenging, but do you know you and your family can eat veggies at every meal? Think baked beans on toast for breakfast, Mexican Stuffed Spuds for lunch and bean and spinach pasta for dinner. Morning and afternoon snacks are also great opportunities to pack in some more veggies.
Bulk cook and then freeze ready to go lunch box fillers with some of our delicious recipes and healthy snacks. To save time you can bulk prepare and freeze healthy snacks to help your kids eat more vegetables. 
Easy recipes, wholesome and nutritious meals and kid-friendly? If you're looking to help your kids find the super in their vegetables, you'll love all the resources available here at the Superhero Foods HQ. Plus, with Food Sensations® for Children, you can learn more helpful tips like these and engage with our university-qualified nutritionists in a comfortable and safe environment.
You might also be interested in